Vikas U Type Air Heaters are the most common type of heating elements used for heating air and other gases. The fins along the tubular length assist in even heat dissipation. All elements have mild steel fins copper brazed to the tubular heating element sheath unless otherwise specified.
Vikas U Type Air Heaters use fin tubular elements within its design to help reduce the watt density. It also allows for more consistent air flow streams within the duct and increases the life longevity of the elements.
In applications where tubular heaters are exposed to forced convection, placing fins around tubular heaters increases their surface area and thus improves their heat transferring capacity. U Type Air Heaters, compared to regular tubular heaters, run at lower surface temperatures for the same watt densities when placed in identical air streams
Despite their advantages, finned tubular heaters are not recommended for applications where outlet air temperatures exceed 600°F.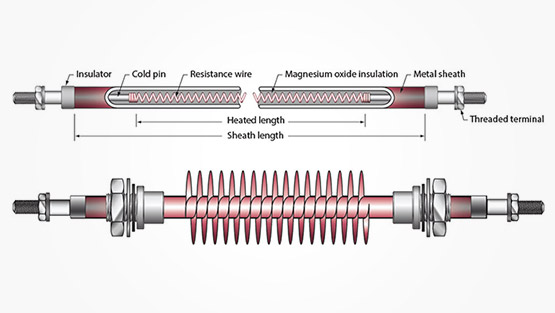 The physical characteristics of a finned tubular heater play a major role in the effectiveness of its heat transfer.
Fin material is continuously spiral wound tightly onto the element surface to increase the convective surface area for air and non-corrosive gas heating. Fin spacing and size have been tested and selected to optimize performance. Steel finned units are then furnace brazed, bonding the fins to the sheath to increase conductive efficiency. This allows higher wattage levels to be achieved in the same flow area and produces lower sheath temperatures prolonging heater life. For higher temperature or more corrosive applications, stainless steel fins securely wound on alloy sheath are available.
Application conditions such as vibration and toxic/flammable media should be taken into consideration when installing heaters.
The sheath material of a U Type Air Heaters and its watt density are two critical factors that affect its durability.